Event Sponsors

Flag Sponsor
Summit Carbon Solutions
Eagle Sponsors
Primary Health Care
Birdie Sponsors
Bankers Trust
Burke Corporation
Chevron Renewable Energy Group
Express Signs
Greater Iowa Credit Union
Hertz Farm Management/Midwest Insurance Corp
HPC, LLC 
Mary Greeley Medical Center
Northwest Bank
Platinum Chiropractic
Proctor Mechanical Corporation
Story Construction
Story County Medical Center
Unity Point Health Eyerly Ball
U.S. Bank
Hole-in-One Grand Prize Sponsors
Ames Ford Lincoln
Beverage Cart Sponsor
Perfect Games/Inside Golf
Lunch Sponsor
Lincoln Center Hy-Vee
Par Sponsors
First Interstate Bank
FOX Strand 
River Valley Credit Union
In-Kind Donations of $500+ value
Todd and Austin Emery
The Photician
Previous
Next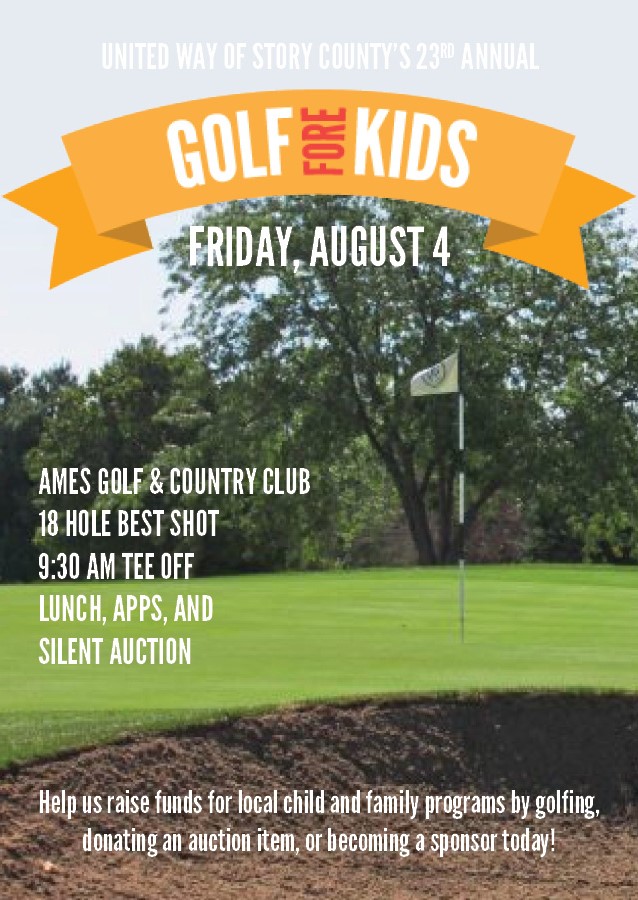 REGISTRATION IS FULL!
$500/foursome, or individual golfers welcome at $125/person (we'll team you up).
18 holes, Four-Person Best Shot
Registration includes:
green fee

cart

lunch

prizes!
EVENT DETAILS
Registration begins at 8:30am
Shotgun start at 9:30am
Lunch provided in the clubhouse beginning at 10:45am
Silent Auction presented in-person and virtually by mobile phone!
Up to 144 golfers with multiple hole events and hole-in-one grand prizes!
Interested in getting your business involved? 
Please review the opportunities below. If you're ready to sponsor, pleas click the link below
 to complete the process.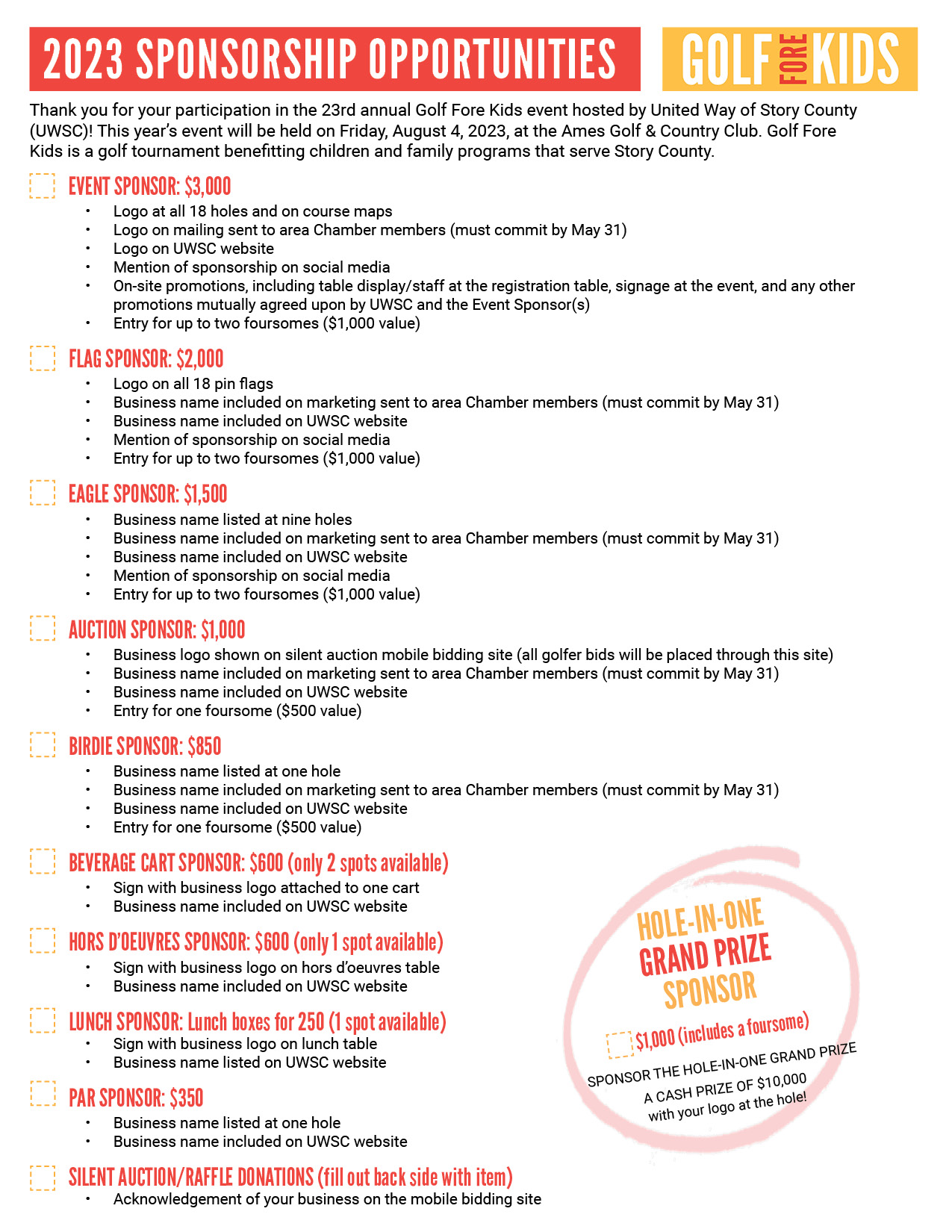 Click on the image above to download and print if you'd like to submit via mail.
---
Didn't find a sponsor level that fits your needs? We would welcome any level of contribution to this event! Contact Allie Prusa at (515) 268-5142 or
aprusa
@uwstory.org
with questions. Thank you for your consideration!
Proceeds from Golf Fore Kids will fund programs and initiatives that impact the lives of Story County kids above and beyond current funding opportunities. More information regarding request for proposals for Golf Fore Kids grants will be out in the spring.
Congrats to our 2022 winning team from Bankers Trust!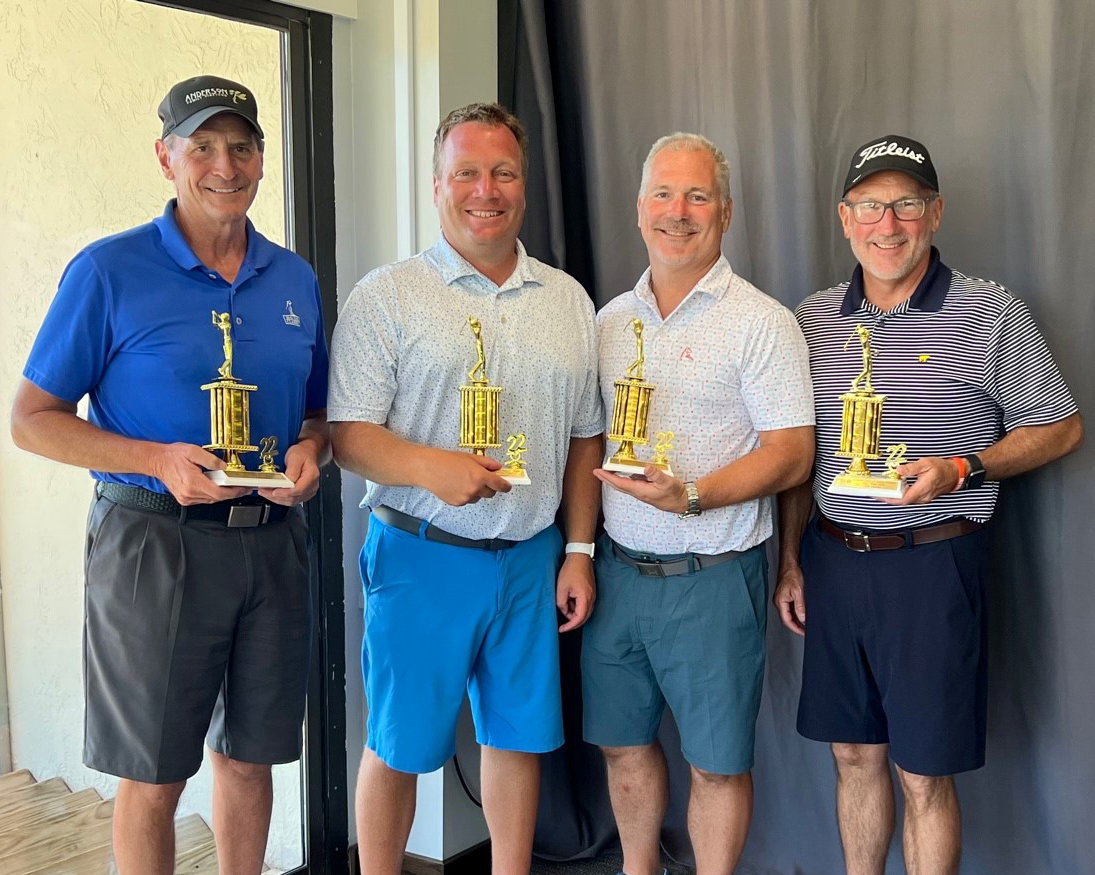 Thank you Cyclone Engraving for donating the trophies!
Golf Fore Kids is organized by a Volunteer Committee:
Mitch Anderson, Todd Emery, Kurt Jensen, Kalen Petersen, Allie Prusa